Making Appointments
How to see a doctor at the Jichi Medical University Hospital
For the patient: In case of first visit, please have letter of introduction as a rule. Reservation is not necessary. Please go from Monday to Thursday morning. If you ask for an introduction letter, it can be issued by any medical institution. We recommend that you ask your local doctor etc for advice.
If you are going to visit again, you can make appointment for medical treatment by telephone. Please tell me the ID of your examination ticket.
Under the age of 15 years old patient: The doctor's child medical center in Jichi Medical University's affiliated hospital will be consulted for childhood plastic surgery. Please bring the letter of introduction in case of first visit.
Those who wish for cosmetic treatment: cosmetic surgery of Jichi Medical University Hospital becomes free medical treatment. Please bring me a letter of introduction for first visit. Reservation is not necessary.
Emergency patient: First aid is available 24 hours. Please bring it to the emergency department at Jichi Medical University Hospital. Depending on the symptoms, please understand that we may ask for medical treatment on the next business day.
Outpatient clinic
The plastic surgery outpatient has become a complete introduction system
For outpatient clinics, we can separate it from the case of elementary school students or less.
■ For those under junior high school students, Tochigi Children Medical Center
■ High school student ~ For adults, Jichi Medical University Hospital
First visit reception is from 8:45 am to 11 am. The return visit is 0285-58-7289 outpatient 20th reception desk or 7127 extension. All cosmetic surgery will be self-medicated examination.
外来担当医師 診療担当表
Mon
Tue
Wed
Thu
Fri
a.m
Yoshimura
Mori
Kaneko/Toyohara
"Keloid"
"Breast reconstruction"
"Lymphedema"
Tashiro
Ike
"Keloid"
"Head and neck reconstruction"
Uda

Yoshimura
Asahi
Kaneko/Toyohara
"Keloid"
"Breast reconstruction"
"Foot care"
Tashiro
Uda
"Lymphedema"
p.m
Extrinsic surgery
Extrinsic surgery
-
Extrinsic surgery
-
入院について
Hospitalization is a reservation system
After having a hospitalization / surgery reservation at a clinic, the doctor in charge of hospitalization will decide the operation date and hospitalization date from the order of patient's reservation, hope, urgency and so on. After that, the person in charge has a system to give you a call by phone.
I plan to contact you within 2-3 weeks prior to scheduled surgery day.
When calling, please also check the date and time of examination before surgery, please come to the hospital.
Caution
Regarding hospitalization date, we will follow patient's wishes as much as possible, but as we may not always be in hope according to availability and urgency of the bed, we appreciate your understanding.
At the moment too many people are waiting for surgery. It may be about 3-4 months ahead.
Even if it comes to the scheduled hospitalization, when there is no contact
If you are already hospitalized and you do not get in touch with even the hospitalization scheduled time, we are sorry but please contact your hospital physician by phone.
When you wish to attend an accompanying person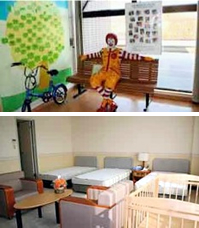 Donald McDonald House(tochigi house) accommodation for families is located 1 minute on foot from Tochigi Children's Medical Center. Reservations are necessary for use, so please contact us.