Clinical Projects
Clinical study on the duration of drainage in breast reconstruction
As a method of breast reconstruction after breast cancer surgery, there are a method of supplementing a defective tissue with an artificial material made of silicon and a method of supplementing a missing part by moving his own tissue (home tissue) such as stomach and back .
In our hospital, when reconstructing by our own organization, we are aggressively rebuilding the breast with a penetrating crustal valve of the deep lower abdominal wall artery. This requires a work to preserve the stomach tissue with careful division of meat and nerves, so the technical difficulty is high and the operation time is longer compared to the implant. Also, it takes time to recover, and bed rest is necessary for about 2 days after surgery, and the length of hospital stay is longer compared with reconstruction by artifacts.
Our hospital is comparing and examining how the incidence of postoperative wound complications and the hospitalization period are affected by the duration of abdominal drainage and the closing wound method.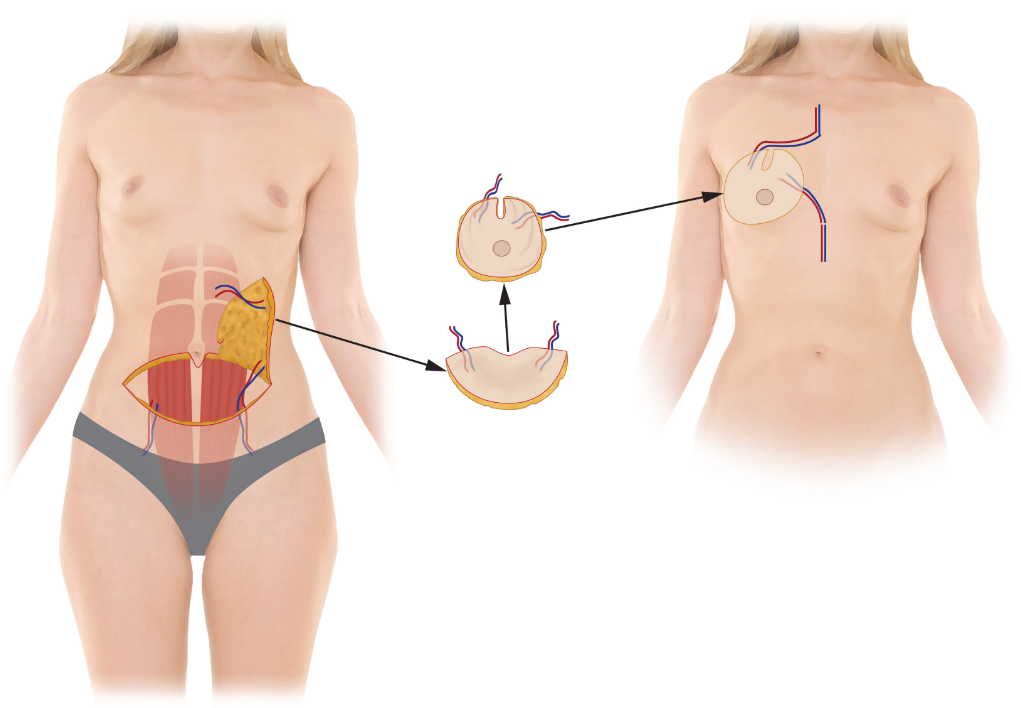 Image of breast reconstruction by autologous tissue using penetrating deep descending wall artery
Treatment of keloid with thin film tape
Using extensible tapes, we will clean up scars after resection and treat keloids and hypertrophic scars that have already been made.
Remove scar or keloid and apply transparent thin tape for 6 months. Tape has no obstacle to life, so you can live comfortably. Evaluation of scars will be carried out when one year passes. Major improvements are recognized in previous studies, and great expectations are given to treatment such as injuries after trauma and injuries after surgery and surgery.