Research Activities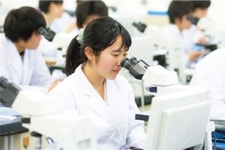 Jichi Medical University (JMU)was established primarily for the purpose of providing general practitioners to offer health care in remote areas. The university is constantly making efforts to enhance its attractiveness by contributing to the advancement of medicine. While continuing to improve the level of medical treatment at JMU hospitals, we are also focusing on active research based on our educational philosophy and we are aiming to establish a system that facilitates exchanges of human resources, especially young researchers. It is paramount for us to attract excellent faculty members and students in order to achieve our mission. We are promoting research activity with a global perspective on the basis of our experience of the 21st Century COE Program, which was primarily supported by the collaborative efforts of our graduates throughout Japan.
In addition to our doctorate program, the Master program of Medicine was started in 2003 as an educational and research program for students with diverse backgrounds. In 2006, we began a graduate program for working professionals so that young medical doctors working in local communities would be able to receive a graduate-level education without leaving their communities. In 2010, those working for JMU became eligible to take the graduate program for working professionals, and a policy was instituted for full-time faculty members for graduate programs of basic medicine. JNU has been actively collaborating with other research institutions and graduate schools.
The Center for Molecular Medicine, which promotes translational research aimed at clinical applications, has been the research core of JMU. lt has been supported by public programs including the High-tech Research Center (HRC)·Program, Program to Support the Formation of Strategic Research Bases at Private Universities, Private University Research Branding Project under the auspices of the Ministry of Education, Culture, Sports, Science and Technology (MEXT). The Center has a flexible system to efficiently facilitate research that meets the demands of the times. It has also introduced a fixed term employment system. For international exchange, an international symposium has been held every year except last two years due measures for reducing the risk of Coronavirus infection. The Center for Development of Advanced Medical Technology has been supported as the Joint usage/Research Center by MEXT. The Center for Experimental Medicine moved to a new building in 2018.
Clinical research is outstandingly important for developing new medical technology. In order to facilitate clinical research, the Support Center for Clinical Investigation was established in 2013 under the direct control of the university president. In 2022 it has been re-organized to the Center for Clinical Investigation, Jichi Medical University Hospital. The Data Science Center was established for management of large-scale healthcare and biomedical data in 2017. In 2018, the Open Innovation Center for large joint research and The Center for Gene Therapy Research were established. JMU also provides support for university-originated ventures.
JMU, which is a unique institution as seen from a global standpoint, is aiming at further advancements in research.